LEARN HOW TO:
Develop, Market, and Lead Your Very Own Workshops and Seminars-
Note- We do not currently have a live training scheduled, but you can purchase the complete 3 day program with two manuals, 12 CDs and more. For complete information, go to www.workshopleadertraining.com.
We Will Give You a Complete, Step-by-Step Blueprint to Build Your Own Lucrative Home-based Seminar Business in Just Three Days Time!
CLICK HERE TO LEARN ABOUT THE HOME STUDY VERSION
Steal a quick look at just a few of the vital things you will learn in this "boot camp":
| | |
| --- | --- |
| | The 3 MUST KNOW SECRETS to developing and leading highly successful seminars and workshops. |
| | Step-by-step instructions on how to develop powerful content that really gets your message across. |
| | The 7 absolutely essential steps required for getting people excited about your event. |
| | How to quickly, easily, and permanently eliminate the fear of public speaking, so that you can, forever more, go fearlessly to the front of the room, take command, and let your voice be heard. |
| | And there is so much more, please read on . . . |
This training is ideal for:
Life Coaches, Holistic Practitioners, Therapists, Financial Planners, Chiropractors, Network Marketers, and Anyone with a message to share. Read on to learn more about the live and in person Workshop Leader Training . . .
"Give a man a fish; you have fed him for today. Teach a man to fish; and you have fed him for a lifetime"
~Chinese Proverb

It has been said that public speaking is the most rewarding profession in the world. When you consider ALL the rewards, that statement may very well be true.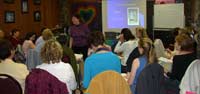 Imagine all the value you can bring to the people through teaching your own workshops and seminars.
Below are just a few of the many ways…
| | |
| --- | --- |
| …bringing people together for mutual support… | |
| | …creating breakthrough moments for your participants… |
| | |
| --- | --- |
| …attracting new clients to your practice… | |
| | |
| --- | --- |
| Listen to what Cathy Kan, a participant in a recent Workshop and Seminar Leader course, had to say after just one day of the three day training. . . | |
People have many reasons for becoming seminar and workshop leaders, here are just a few:
| | |
| --- | --- |
| | It is tremendously fulfilling |
| | Provides a great sense of purpose |
| | Satisfaction of helping others |
| | Home based business |
| | Creative freedom |
| | Satisfaction of meeting challenges |
| | Meet lots of interesting people |
| | Opportunities to travel (and get paid for it) |
| | It is Great FUN |
| | Potential for earning a six figure income |
| | and the list goes on . . . |
Whatever your your reason or passion may be, this training will pave the way.
Whether you are a practicing professional looking to increase your client base, someone with a message that must be shared with others, a network marketer, or a crusader out to save the world, this workshop is for you!
This training was presented personally, by internationally recognized speakers and authors, Patricia J. Crane, Ph.D. and Rick Nichols. Dr. Crane is the author of the popular, Ordering from the Cosmic Kitchen, The Essential Guide to Powerful, Nourishing Affirmations, a lighthearted look at how to "cook up" the life you've always dreamed of. Rick Nichols is a powerful platform speaker and master storyteller.

Between the two of them you will be exposed to a depth of knowledge, experience, and technique that is unique in the world. They have presented hundreds of seminars, workshops, and speeches worldwide.

From: Patricia Crane, Ph.D. & Rick Nichols
Re: Becoming a successful workshop and seminar leader
Dear Friends,
We came to this extraordinarily rewarding business of leading seminars and workshops, and speaking at miscellaneous events, from very different backgrounds, and with no experience in the field. Mostly through the difficult and costly process of trial and error we've learned exactly how the business works. We've also learned how amazingly profitable it can be . . .
. . . if you know how to do it.
Now, through this powerful three day training, we can show you exactly how to be highly successful in developing and leading seminars and workshops even if you:
| | |
| --- | --- |
| | have zero experience |
| | don't know what subject you would teach |
| | haven't a clue about how to get started |
| | don't know how to set your fees |
| | don't know how to choose locations |
| | don't know the best seasons for programs |
| | don't know how to promote seminars/workshops |
| | panic at the thought of public speaking |
We have been working together, training and certifying workshop leaders internationally and across the United States for more than ten years. And that "work" has brought us huge rewards in more ways than you could imagine.
Click here to download a list of the courses we have developed and lead over the years.
Now, here's what really excites us — Many of our students are reaping their own rich rewards from the workshops and seminars they are facilitating. A few of these success stories are listed below and you'll find more on the right side of the page.
"I would like to express my gratitude for the wonderful changes in my own life and the wonder and joy I feel as I watch people 'grow', finding joy in their lives through the work I'm teaching.

For several years now I've been taking my workshops to many parts of Australia. I have touched the lives of more than 1,000 Australians. Thank you!"

~ Mary Heath, Perth , Australia

"The biggest reason I attended this seminar was to work on my fear of public speaking. Patricia and Rick worked with me and coached me until I walked through the stage fright."

~ Loah Grace Swanson, FL, USA

"I would like to thank you for the amazing and detailed workbook you provided at your workshop/seminar training. During the event I was able to narrow down what I want to teach as well as the most effective way to get my message across. The workbook is so organized and detailed that when I left it was so easy for me to review the training and put my workshop together. All I did was follow the guidelines you provided in the workbook. I am now providing wonderful workshops and seminars. I thank you from the bottom of my heart."

~Jennifer Matties, Life Coach, The Life Power Group – Las Vegas, NV

"Rick and Patricia bring a great balance of energy and wisdom to their workshop. Along with learning the material I came for, I also learned a few life changing things about myself. Thank you for your powerful information."

~Claudia Airola, CBT , CA

"Rick and Patricia helped me gain the confidence I needed in public speaking so that I can lead workshops with poise and grace. Thank you! My expectations for this workshop were completely met- a 10!"

Jamie Clark, South Dakota, US
You can be DEVELOPING and leading your own workshops and seminars very soon, it all starts with REGISTERING FOR THIS AFFORDABLE THREE DAY TRAINING COURSE!
WHAT YOU WILL LEARN FROM THIS TRAINING:
Day One:
| | |
| --- | --- |
| | How to find your exciting topic |
| | The three vital elements of a workshop |
| | Creating powerful workshop content |
| | Construct your working outline |
| | Establishing your expertise |
| | Identifying your market |
| | How to co-op with practitioners & professionals |
Day Two:
| | |
| --- | --- |
| | Setting your price point |
| | Best length of workshop |
| | Choosing your location |
| | Best times for best attendance |
| | Marketing basics |
| | Creating promotional materials |
| | Advertising options |
Day Three:
Fearless public speaking . . .
You will learn an amazing technique for instantly and permanently overcoming the fear of public speaking and other phobias!
For some this could be worth the cost of admission all by itself.

Powerfully effective presentation skills
The amazing power of nonverbal communication
An easy technique for improving speaking skills
The value and power of storytelling
How to manage your audience
WHAT YOU WILL RECEIVE FROM THIS TRAINING:
| | |
| --- | --- |
| | Three full days of training in a beautiful location |
| | 180 page manual with worksheets |
| | Bonus section on how to create products |
| | List of web sites for groups that need speakers |
| | Sample flyers |
| | Sample ads |
| | Follow-up personal consultation and coaching |
You will also receive this EXTRA SPECIAL BONUS:
Dear Rick and Patricia

Many thanks for your recent Stress Management courses which you ran at my office. It proved most helpful. I felt the benefit. Your sympathetic and amusing presentation went down very well indeed – even I laughed at Rick's jokes.

Stress in the workplace is no laughing matter but humour is a good reliever. I know that you take this subject very seriously but the fact that you can engage your audience with such charm and sincerity is a massive bonus in encouraging participation.

In the end we all need help from time to time and it's nice to know that people like you exist to give it.

I look forward to seeing you both again soon.

Best wishes,

Jim

Jim Beresford
Beresford Solicitors
Doncaster , England
Complete Outlines for two of our popular programs:
"Healthy, Wealthy, and Wise",
This outline of an inspirational three hour, personal development seminar, is yours to take home. You'll also receive a 3 CD set of a live recording of this event at no extra cost.

PLUS

"Reducing Stress Is In Inside Job!"
This program has been instrumental in our repertoire of workshops because it allows us to reach out to a wide range of organizations, e.g., community groups, business small and large, hospitals, churches, etc. We spent two days presenting this workshop at the largest personal injury law firm in the United Kingdom, here's what the Founding Partner and CEO had to say about
it . . .

These two outlines are yours to keep.

Use them as is, or modify them (recommended) to suit any situation you may have.
THIS IS YOUR OPPORTUNITY TO REALLY LAUNCH YOUR SPEAKING CAREER AND BUILD THE LIFE YOU LOVE!
SORRY
REGISTRATION FOR THIS COURSE IS CLOSED,
NEW DATES TO BE ANNOUNCED
Course tuition is only $895.00

NEW DATES TO BE ANNOUNCED
This training would cost you well over $1,000.00 elsewhere!
SORRY
REGISTRATION FOR THIS COURSE IS CLOSED,
NEW DATES TO BE ANNOUNCED
CLICK HERE TO LEARN ABOUT THE HOME STUDY VERSION
If you need more information about the training, or would prefer to register by phone please don't hesitate to call us toll free at
800 969-4584 (in U.S. and Canada)
760 728-8783 (from elsewhere)
To request notification on future seminar and workshop leader trainings please complete the form below.